About
Body Art

Fitness Centres
About the Founder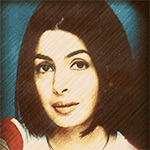 Nawaz Modi Singhania
Fitness Coach and Mentor to Indian Idol junior 2015 finalists and Super Dancer 2016 finalist on Sony TV
Fitness Mentor and expert speaker for TATA Mumbai Marathon 2018
Certified in the Foundation Nutrition Courses & the Weight Management Programmes from ESA, the Excercise Science Academy
Radio presenter on Health and Wellness tips - interviews by 91.1 FM Radio City and constantly heard sharing wisdom on fitness / wellness on 94.3 FM Radio One
Leading columnist on Health and Fitness with various leading newspapers and publications such as Times of India, Femina, Savvy, Health and Fitness, Mumbai Mirror, Midday, etc...
Tata Sky Active Fitness Channel, an initiative by Brilliant Living TV - Bollywood star Suniel Shetty, with Nawaz as a Fitness Pro & Anchor.
1991- Trained, taught & certified in America as a Fitness Professional by ACE (American Council on Exercise) & IDEA (International Dance Exercise Association).
1992- Founded Body Art, the Fitness Centres including an Aerobic Workshop, Gym, Pilates & Gyrotonics Hub, Aqua Aerobics unit and Indoor Biking Studio in South Mumbai, which Nawaz runs with her team of Fitness Professionals. The Aerobic Workshops conduct over 60 odd classes per week. Nawaz handpicks and trains every Trainer / Instructor personally & on an on-going basis, based on cutting edge international standards. The Aerobic Workshops offer a wide variety of routines such as Mat Pilates, Zumba, Boxercise, Hi-Low Fusion, Cardio Dance , Body Sculpting, Swiss Ball Training, Anti – Ageing / Facial Fitness Workshops, Circuit Training, New Body Format, Trampoline Workouts, Slide Training, Stress Management Workshops, NYC Muscle Ballet, Indoor Biking, Step & much more.
Over the years, Body Art has become more than just another Fitness Centre. From nutrition workshops to dance classes, members get an option to come in out of their workout sessions, mingle with each other & learn more about health & fitness, or just have fun learning to jive! This builds it in to a closer knit community. Members feel loyal to Body Art because it's more than just a place to jump & pump. It's this loyalty, our result-oriented workouts, the uniqueness of Body Art & the quality of our Instructors that keep members coming back to us year after year!
Nawaz has participated in Fitness Conferences, Workshops & Conventions in America, Australia, the UK & Singapore. The quality of instruction, the variety of the routines, the management & facilities all make it a smart & impressive place to be, while the charges continue to be affordable. Body Art is committed to maintaining the highest internationally recognized professional standards for your comfort & benefit.
Nawaz has written on fitness & health - related subjects for many years for various online & offline publications such as Mid-day, Femina, Savvy, India Today, Times of India, Bombay Times, Cosmopolitan, Health & Fitness, Business World, Elle, Marwar, Soulkurry.com, Emedlife.com, Upper Crust, Global Gujarati, Sananda, BSE Broker's Forum, Chitralekha, and Urban Melange.
Nawaz has been interviewed regularly on various Radio channels such as Radio Mid-day, Radio One 94.3 FM and Radio City 91.1 FM, where she continues sharing gems on fitness, health and lifestyle related matters. She has been featuring on India's biggest Fitness channel on Tata Sky - Active Fitness 1). Anti ageing workouts and facial fitness 2). Wedding Fit by Nawaz Modi Singhania in Dec 2016 – to name a few.
She's also had Fitness shows on TV on the B4U channel called "Let's Get Physical", & on CNBC on a health show called, "Good Life", which were aired 3-4 times a week. Nawaz was interviewed by Simi Chandok on Zoom TV on the show 'Hi Tea with Simi Chandok'.
Nawaz has been associated with various Marathons - KhushiCausathon had an association with Nawaz and had her warm up, motivate & flag off of their runners. She also had a similar association with the CNBC Investathon.
Nawaz and Body Art partnered with & supported Marathoner Michelle Kakade - as a Lifestyle Expert & Coach - in Michelle's dream run to the Guinness Book of World Records under the banner called, " ¾ the Great Indian Golden Quadrilateral Run" across 14 major metros in India. Michelle started this 6 month run on Oct 21st, 2015 post a grand flag off at the Gateway of India, winning her much prized Guinness Book of World Records in 2016.
Nawaz has been associated with the StanChart Mumbai Marathon and Procam as a Fitness Expert and Trainer. She engages with the Runners by giving them talks, workout sessions, and has individual training sessions with them, among other related activities. In 2013 Nawaz was associated with the Lion's Club for an Army event for the Indian Jawans where she was felicitated.
She was the Tata Tetley Green Tea Aloe Vera – Fitness & Lifestyle Ambassador in 2014. In 2014 Nawaz had an association with the Khwaaish Lifestyle Group, Hyderabad, where she inaugurated their Exhibition and conducted a presentation at the event. In 2014 Nawaz had an association with Jaro on-line Education, where among other things she was felicitated by them along with Dr.Pasricha.
Nawaz is very fond of kids and is passionate about promoting health and wellness in them - it's her passion that got her doing reality show for kids on Sony TV. Nawaz was appointed the Indian Idol Junior Fitness & Health Mentor for 2015, where she worked with these highly talented kids from all over India to help bring out their singing fitness, so to speak! She increased their lung capacity, worked on opening out their diaphragms, increasing their stamina & their holding power, made their voice more melodious & corrected their postural deviations (rounded, droopy shoulders). Nawaz included stress management techniques and mental relaxation methodologies into their programme to get them to destress. After the success of Indian Idol 2015, Nawaz did another reality show for Sony TV - Super Dancer 2016. She conducted health and fitness programs for the young finalists on this show.
Nawaz has recently been awarded the "Wellness Icon of the year 2017 " by Asia Spa group and featured on the cover page of "Savvy magazine March 2017 issue". Celebrities, industrialists, top achievers, actors, models, stage personalities & fashionistas such as Harsha Bhogle, Lisa Ray, Poonam Soni, Dr. Swati Piramal, Atul & Gayatri Ruia, Sanjay Narang, Lia Dubash, Laila Lamba, Elina Meswani, Ramona Narang, Shweta Shetty, Bijal Meswani, Delna Mody and many such others have worked out at Body Art over the years.
Nawaz is Certified in the Foundation Nurtrition Courses & the Weight Management Programmes from ESA, the Excercise Science Academy, and also a Law Graduate, who studied at the Government Law College in Mumbai. She is additionally a talented Artist, primarily working with oils, acrylics and charcoals on canvas. In 2008 Bollywood Actress RaveenTandon unveiled Nawaz's first Solo Art Show in Mumbai titled "Body Art", where human anatomy, form, dance, grace, colour, speed & the notion of movement adorned her canvases, delighting, captivating & wowing her audience. Since then she's held multiple Solo Art Shows in Mumbai & Delhi.
Nawaz is also a Director on the Board of India's leading textile giant, Raymond Limited and some of the group subsidiary companies.
What Workouts are available?
The Workshop
Below are some of the Cross Training Programmes that the Workshop conducts. Some are done in regular rotation, while others, you get a choice about in advance.

Gym
Our gym provides a host of strength and cardio workouts. It is fully equipped with strength training equipment, free weights, cardio equipment, a steam room, attached to lockers, changing & shower rooms.

Pilates Hub
Our Pilates Hub has equipment such as the Trapezius, Studio Reformer, Allegeo Reformer, Combo Chair, Wunda Chair, Spinal Corrector and more. The body becomes slimmer, firmer and more shapely, while one loses inches around the mid section and thighs.The Hub also works wonders in rehabilitative processes (arthritis, knees, back, etc)

Personal Training
Though greatly beneficial for all, members with any of the following health conditions or special requirements will find Personal Training of particular value to them.
Back problems | Pregnancy | Diabetes | Asthma, emphysema and bronchitis | Arthritis | Osteoporosis | Knee problems | Postural deviations | High blood pressure | Those training for a particular sport/ competition
What are the Facilities provided?
A fully equipped air-conditioned Workshop with attached lockers, changing & shower stalls.
A fully equipped Gym with strength training & cardio equipment and a steam room.
A fully equipped Pilates Equipment Hub with attached lockers and changing rooms.
Lockers (no extra cost)
Valet parking
Basic recommended dietary guidelines
Progress records maintained for each individual
System of make-up classes for our Workshop members.
Value Added Services
Health for you- Naini Setalvad
Consultant Nutritionist - Suman Agarwal
Therapist/ Counselor - Tushna Kapadia
Iz - Dr. Rekha Sheth
And much more...
A Hole in the Wall
Check out the accessories available with Body Art - Click here
Workshops / Presentations
These are open to all our members and their guests. Some of the topics included are:
Exercise and Pregnancy
Common Myths and Misconceptions of Exercise
Osteoporosis - The Silent Killer
Facial Fitness Workshops
The Healing Power of Reiki
The Art of Living
Rashmi Uday Singh - The walking, talking good food guide (to low fat, healthy cooking and eating)
Dr. Anju Venkat - Healthy cooking & eating, and healthy living.
FLearn to dance with Salome Roy Kapoor
The Taichi Way
Childhood Obesity
And much more...
Orientation
This is a service for all our new Workshop members where the instructor briefs you on what's going on, what the different workouts we offer are all about, what some of the basic moves of these workouts are, how to learn them & perform them correctly, etc.
For More information click here
Benefits of Regular Exercise
Fat and inch loss
Increased strength and endurance
Increased stamina
Increased flexibility
Increased muscle tone
Increased mental alertness
Increased self-confidence
Improvement of certain health conditions such as asthma, diabetes & arthritis
Increased cardiovascular efficiency
Improved physical proportion
Improved body composition
Improved sleep
Radiant health
Decreased physical fatigue
Decreased blood pressure
Denser/ stronger bone
Benefits for Different Health Conditions

Weak Back
Strengthens and relaxes the back.

Insulin-Dependant Diabetes
Reduces the need for Insulin.

Arthritis
Increases joint mobility and muscle strength.

Asthma/Bronchitis
Increases lung efficiency.

Weak Knee
Strengthens the muscles supporting the knee, stabilises and strengthens the knee joint by developing the ligaments of the knee.

Coronary Heart Disease
Reduces high blood pressure, obesity, stress, high cholesterol levels and diabetes.
Trainer's Profile
All Body Art's Trainers & Fitness Instructors are highly trained & qualified professionals, committed to maintaining the highest standards for your comfort & benefit.
Regardless of your goals, health limitations, age and fitness level, they will work out an individual programme for you & guide you through all your workouts. They will change & modify your programme, including a large variety of exercises & different routines at regular intervals.
Being a part of an integral team, regardless of your trainer possibly changing from time to time, you will never feel the difference in your workouts.
Our Workshop Instructors:

Nawaz - Founder

Kavita

Dipali

Avani

Reshma

Aparna

Pinky

Roshan

Sonal

Pratik

Janvi

Usman

Sudhir
Our Workshop Instructors:
Nawaz - Founder, Kavita, Aparna, Avani, Dipali, Pinky, Reshma, Greeta, Janvi, Sonal
Our Gym Trainers:
Dipali, Roshan, Sanjay, Pratik, Prathamesh
Our Pilates Hub Trainers:
Dipali, Roshan, Sanjay
Our Gyrotonics & Pilates Hub Trainers:
Dipali, Roshan, Sanjay, Pratik, Prathamesh
Our Pilates Hub & Gym Personal Trainers:
Dipali, Roshan, Sanjay, Pratik, Prathamesh
Our Aerial Arts Studio Instructors:
Charita, Shweta, Greeta
Our Aqua Aerobic & Aqa Yoga Trainers:
Nawaz, Greeta
THE YOUNG COLLEGIANS ' ZOROASTRIAN ASSOCIATION (Y.C.Z.A.)
YCZA started in 1952 with members from all Colleges in Bombay. In 1977 the Y.C.Z.A. EDUCATIONAL & CHARITABLE FUND was formed. It is registered under the Bombay Public Trusts Act and also has a Section 80-G Income Tax Act exemption for its Donors. Its present Trustees are Mr. B.S. Bhesania, Mr. K.K. Commissariat, Mr. N.A. Modi, Mrs. Nawaz Modi, Prof. K.C. Sheriar, Dr. N.K. Sheriar and Mr. D.E. Tata.
Y.C.Z.A.'s aims include:
Arranging functions and activities of all types where among other things Parsi Collegians can develop friendships and a network, and work together; and
Running a Book Fund from which every year a few hundred (Zoroastrian as well as non-Zoroastrians) get their textbooks in all faculties which are let out at very nominal wear and tear charges without any deposits.
Unlike most other charities. we have no paid workers & through the generosity of patrons & sponsors have no overheads like rent, etc. We thus ensure that the full benefit of every Rupee which is given to the Y.C.Z.A. Educational & Charitable Fund goes directly for charity & is not used up in overheads & administrative expenses.
Since 1952 the Y.C.Z.A. has had a record of several thousand members now spread all over India and the world.
The Y.C.Z.A. aims at filling in that educational & cultural void left in the lives of its members, that neither the average home, nor the average educational institution can reach.
To get more information and Enroll:
Contact address:-
Activities at: "Modi Lodge", Ground Floor, 13 Watcha Gandhi Road, Off Hughes Road, Mumbai - 400 007.
Office: Prospect Chambers, 1st Floor, D.N.Road, Opposite Thomas Cook Bldg, Mumbai 400 001.