Online Personal Training
Introduction to Online Personal Training
Keeping Healthy & increasing our Immunity is top of mind for everyone globally! We at Body Art feel socially responsible to our Members to find an alternate way about Fitness during these Co-Vid 19 days. Now in the safety of your own home you can yet keep your Immunity up, & maintain your Health & Fitness- weight, muscle tone, etc –After all, now our lives in a very real way depend upon this !
The Benefits of Online Personal Training
Body Art is pleased to introduce an On-line Personal Training option, during this crisis Covid 19 period.
Your routine will be Bespoke, tailor-made to your requirements.
You can move more easily and quickly, perform many tasks, acquire many desired physical skills and prevent injury
Taking your particulars & specifications into account – i.e. your Fitness level, Health Limitations (if any), Goals, Age, etc
Progressive Fitness- to ensure you continually get fitter with us,
Cross Training- taking up different workouts regularly to ensure continuous progress, so you don't stagnate,
Advantage of Interactive Fitness with Personal Trainer- technique imparted, alignment correction, appropriate Intensity level for each client, etc
Routine will include Rehab, if required
Senior Citizens Fitness – for our older clients will include strengthening their Cardiorespiratory system- everything the doctor ordered right now - & muscle tone. Exercises to reverse common signs of aging will be included – such as an unsteady gait, balance related issues, knee problems, back problems, postural deviations, urinary incontinence, bowel control, eyesight, etc.
Workouts Available
On-line PT sessions will have these forms of Cross Training
Calisthenics
Mat Pilates
Power Yoga
Sculpt
ZUU Animal Walk
Partner Workout
Chair Workout
Kettle Bells
Band / Dupatta Workout
Free Weights
Callanetics
Yoga & Pranayamas
Functional Fitness
Body Weight Training
Book Training
Towel Training
Total Body Conditioning
Ball Training
Yogalates
Gyrokinesis
Online Personal Training FAQs
On Zoom, which is a free & easy to download App. Once you sign up with us, we will send you a link with simple instructions.
Yes. However the minimum requirement from your end is WIFI of at least 4 MBPS both in-coming & out-going, and that you remain as close to your Router as possible.
Call / Whatsapp-
Reshma- + 91 99 876 83883
Pinky- + 91 91 679 35857
Niyati- + 91 82 917 83901
Sonal- + 91 82 917 83635
Yes. If you'd like a locker, speak to any of our Trainers & they'll help you.
Charges
Per session
400/-

4 sessions
1,600/-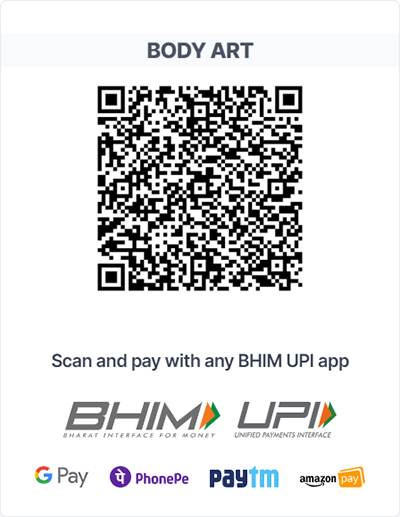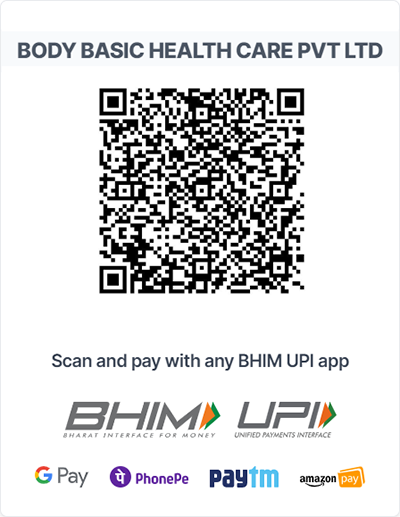 Contact
| | |
| --- | --- |
| Reshma | + 91 99 876 83883 |
| Pinky | + 91 91 679 35857 |
| Niyati | + 91 82 917 83901 |
| Sonal | + 91 82 917 83635 |
Some Useful Info About Online Personal Training
Each 40 minute On-line PT session will be Bespoke, i.e. tailor-made for you – taking into consideration your goals, individual requirements, health limitations (if any), age, exercise preferences, etc.
Being Progressive Cross Training you will see constant result.
Here are some of the Body Art routines you can expect to enjoy during your On-line Personal Training with us:-

Power Yoga
Mat Pilates
Calisthenics
Yoga
Body Sculpt
Partner Workout
Chair Workout
Kettle Bell Full Body *
Band Workout / Dupatta Workout
Free Weight Full Body *
Body Weight Training
Towel Training
Ball Training
Callanetics
Yogalates
Gyrokinesis
Functional Fitness

* Kettlebells & Dumbbells can be substituted with water bottles, if you don't have these at home.
Payment needs to be done upfront.
There is no additional Enrolment charge for On-line Personal Training.
All taxes are included.
Payment Details:- NEFT / IMPS Bank Transfer (details below):-
Name : Mrs. Nawaz Gautam Singhania
Current Account No. : 23105135962
NEFT / IMPS IFSC Code : SCBLOO36001
Bank Name : Standard Chartered Bank
Branch : 90, M. G. Road, Fort, Mumbai 400 001
Your On-line PT Coordinator will contact you as soon as you sign up for Online PT with us for further coordination via Whatsapp or SMS.
Your On-line PT Coordinator will then also send you a Zoom link in advance of your first On-line PT session with us which will guide you through the set up, and from where you will access your On-line Personal Trainer at the appointed PT days and timings. Zoom is a free App & is easy to download & use.
Those wanting to do Online PT in pairs on the same time / day slot, will get a 20% discount of the total PT amount, subject to the term being identical.
If you want more flexibility in your PT sessions, do ask for more information on our Online Flexi PT training programme.
Once the commencement date of your term has been fixed, it may not be changed for any reason.
Charges are non-transferable & non-refundable.
If for any unforeseen reason your Personal Trainer is unable to train you on a particular day, you will be provided with another Trainer who will follow your training schedule as worked out by your original Instructor.
Your Trainer will wait online for you for a maximum of 10 minutes after the fixed time of your session, after which that session will be lost by you.
We will be closed on certain Public Holidays during the calendar year. Any classes/sessions missed as a result of the same will not be made up or re scheduled. The number of classes due to you are calculated excluding any such holidays. Please Click here to check the public holidays of 2021.
Please inform your Trainer at the outset if you have any Medical History or special needs that they should be aware of. It will help us design the best possible workouts for you and often can reverse health ailments as well.
You may inform your Trainer of your next session when you see them during your previous On-line Training, or through our PT Coordinator.
Scheduling or rescheduling of your term & sessions can be done by Whatsapping/ SMS-ing the PT Coordinator. A cancellation has to be make at least 24 hrs in advance, or else the turn in question will be counted in.
One in every 4 classes may be rescheduled by you if you so choose, at an alternate day & time as per your & your Trainer's mutual convenience, so long as your class cancellation comes in as described immediately above, and as long as it is within the same time frame of your scheduled sessions.
Term extensions will not be granted for any reason whatsoever.
Caution: Now that Maharashtra lockdown has opened up more so, and many of us are cautiously going out to a greater extent than we previously did, do ensure that your workout shoes, gear, and immediate environment are properly sanitized before your Body Art Online Workout with us, in order to avoid any contamination / transmission of the virus.
Some Useful Info About Flexi Online Personal Training
As some of our members found the need for more flexibility in PT, the following system has been devised.
A member doesn't have to take a fixed day/date/timing for PT.
The next PT session needs to be fixed between the member & the Trainer to suit both their convenience during the previous On-line PT session or then through our PT Coordinator.
Training can be on any day/ date/ time that is suitable to you & the concerned Trainer.
Our charges for the PT-Flexi-timing System will be 20% over the usual On-line PT charge.
Once an On-line PT session has been fixed, as is with a usual On-line PT, a member may make a change by getting in touch with the PT Coordinator at least 24 hours in advance. Upon failure to do so, the session will be counted & billed.
During this term, though a member may decide upon the trainer they would like to work with, there will be other back-up trainers, as in all our regular PTs.
Please make sure you have received, read & clearly understood the print-out titled, "Some Useful Information About On-line Personal Training", as it will apply to your training with us, the only difference being that which is stated above, if you have signed up for a Flexi PT term.
Caution: Now that Maharashtra lockdown has opened up more so, and many of us are cautiously going out to a greater extent than we previously did, do ensure that your workout shoes, gear, and immediate environment are properly sanitized before your Body Art Online Workout with us, in order to avoid any contamination / transmission of the virus.